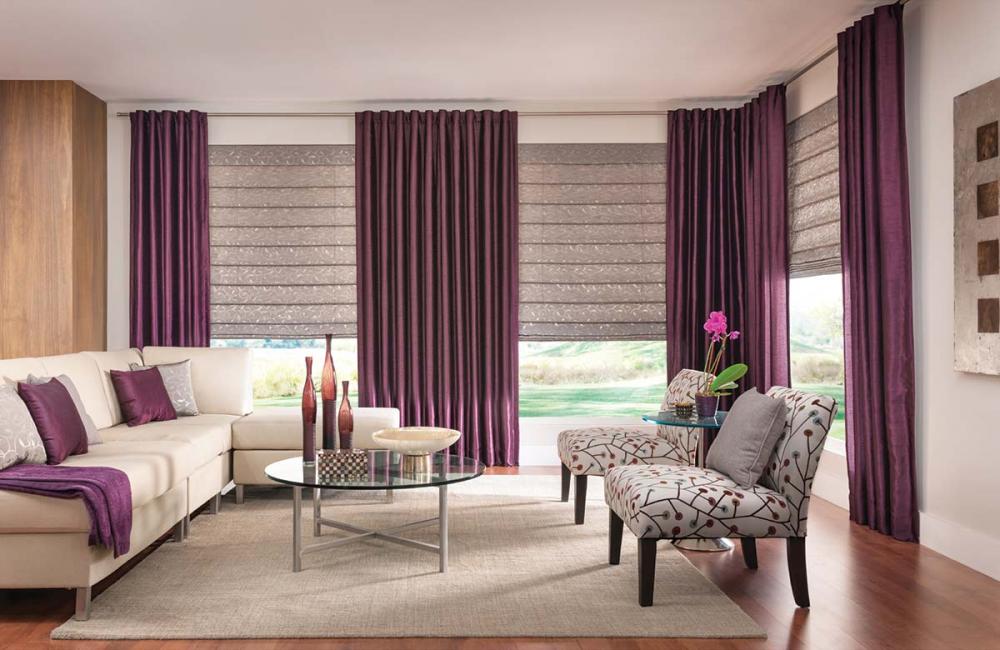 Window Blinds:
Window Blinds and Shades not only provide a nice window treatment. They also create a protective shade & save Energy by blocking out the scorching, hot sun from entering your home and office.
If you need to install window blinds and shades, you could just purchase your window blinds at Walmart and install them yourself. Or you might rather hire a professional installer along with your new window blinds at Lowes. The installer will be contracted from Lowes and come out and measure all your windows to make sure that those window blinds and shades are cut to fit. Now, all you have left to do is to decide what type and style you think is the best fit for your rooms.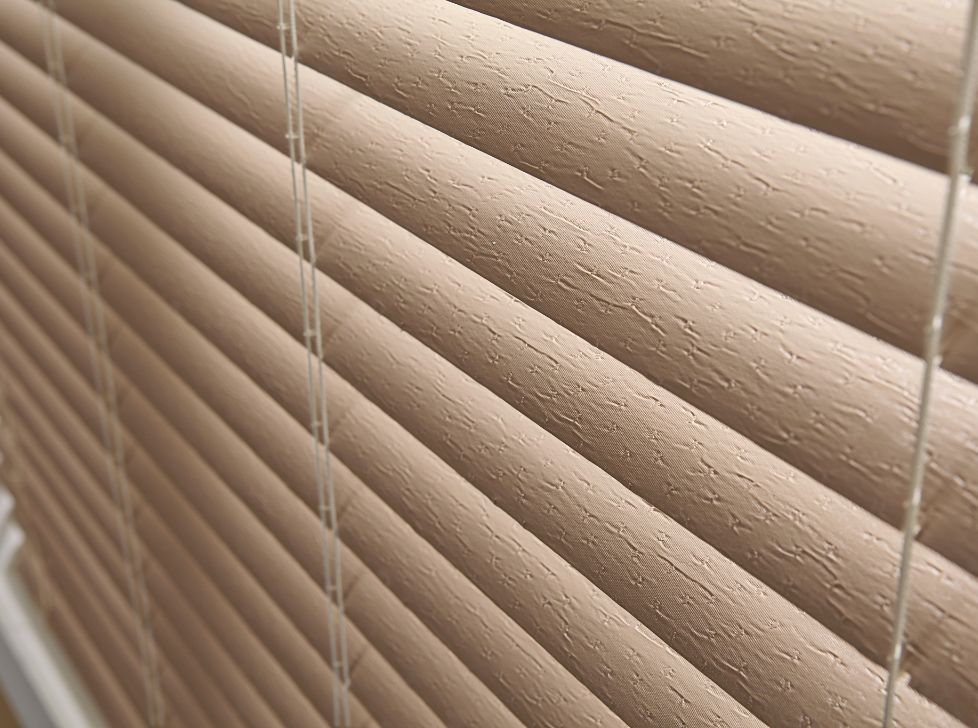 However, that is often easier said than done. Because, of all your options. Once you start shopping, you will notice a great variety in materials. As well as many different styles, ranging from simple bamboo roller Shades to window blinds and shades that even fit ultra modern interiors!
Therefore, we put together this Ultra Window Blinds and Shade Guide.
Granted we too offer a variety of Blinds and Shades. Such as Timber View Value Wood Blinds, Timber View Premium Wood Blinds, Royal Wood, Royal Budget Wood. As well as Window Dressings from many other Discount Factory Direct Blinds like Hunter Douglas, Graber, and Kirsch. However, we like to help you to make a informed decision, so you will continue to enjoy your window blinds for years to come.
And if you still need help to finalize that decision or with your order & install we will be happy to assist you in either way possible.
Child Safety Information:
Most of the following products can be made safer for places where children and pets may be present. You can find option like the selection of the crank upgrades or to motorize your blinds.
All other versions of these products have cords (unless specified differently) that may be accessible, and are not recommended for windows where children or pets may be present.
Window Blind History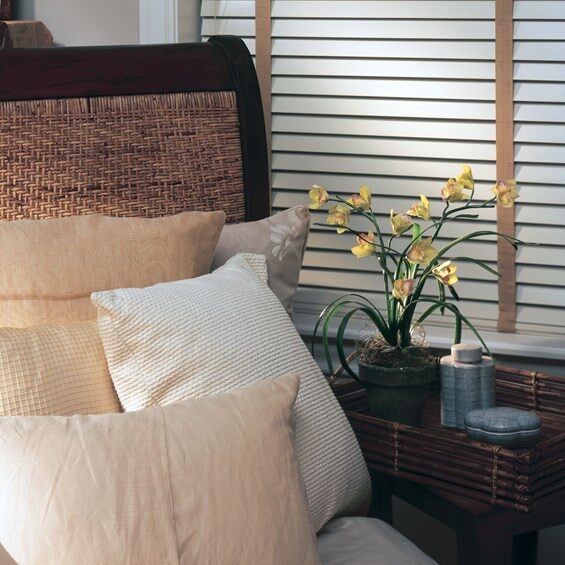 Do you realize that Windows have been around for about 4000 years? Imagine living in a cave where poor ventilation was the daily norm. Or that live is dictated by daylight.
We discovered the need of window dressings long before glass filled the window openings. In earlier years window shutters where the main means to close off window openings. And at some point people decided to mount hides or fabrics over the window interior. In castles heavy drapes helped to reduce draft. And drapes are still used to combat drafty windows.
One of the first dedicated window blind inventions must have been the roller shades. And these early roller shades simply raised and lowered the pad over the opening without having to use any mechanism.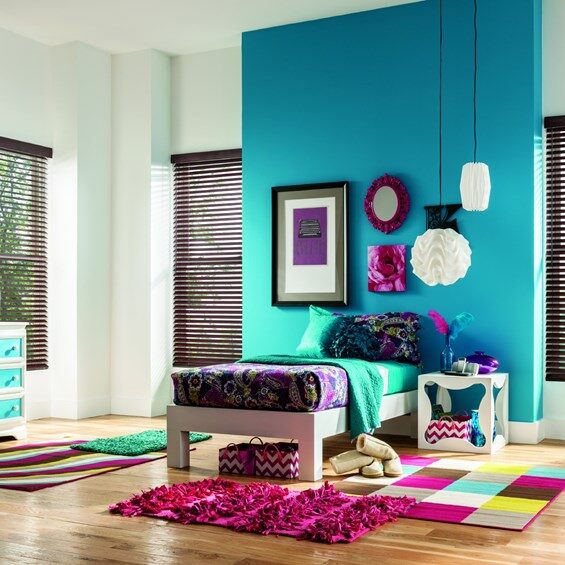 Venetian blinds:
I found that these window blinds are named after their origin Venice, Italy around 1794. They were used to replaced fabric curtains or shutters. These blinds have some horizontal louvers (slat's), which might be joined with string so that they can rotate.
This allows light to feed between these slats as well. To keep light out, they can rotated as much as 170 degrees, as well as to clear your window by pulling the up.
By pulling a cord along with a different string you can raise and lower the blind or rotating a connector was attached, so the rotation could be achieved,. There are other versions where the two mechanisms are combined into a rod.
During this time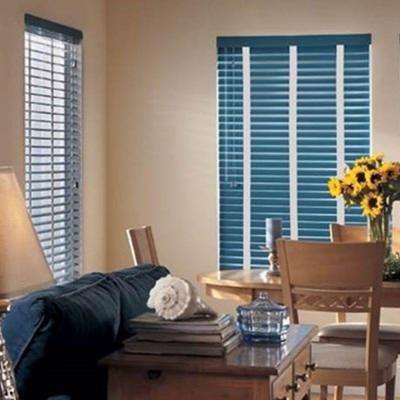 The roller shade became highly popular as well and many innovations were integrated into the product. Some included new fabrics and materials; others improved operational components and further designs.
In the mechanical age it was only a question of time till a spring systems for roller shades was introduced. Now these shades can, roll up all alone, and stop at any desired point.
The introduction of such sophisticated control mechanisms increased the everyday use. And these shades where in demand across the world.
Today's Window Blinds and Shades
Watch, enjoy, and get inspired by the Bali Total Window Solutions Video
Most homes in the US have at least had one roller shade through the years.
Most of the department stores carry some Blinds and Shades brand. However, top-quality, window dressings are mostly available through designers, decorators, and specialized window treatment retailer.
Custom blinds and shades are fabricated to your exact specifications in material, physical dimensions, design, and control capabilities. The longevity and durability of such customized window treatment by far out-performs prefabricated lower priced products.
And pull shades for example have two clear advantages of window blinds. Because those shades are great to blackout a room and since there are no long cords required they are fairly child proof. However, the advantages of window blinds over shades are that you can control the amount of light evenly without sacrificing your privacy.
The option to rotate the blind slats gives window blinds an additional shading option. That additional feature is most likely the reason why Window Blinds widely replaced the simple roller shades.
Window Blind Types:
The following types of Slat Blind Materials are:
Aluminum
PVC,
Composite
wood
Window Mini Blinds: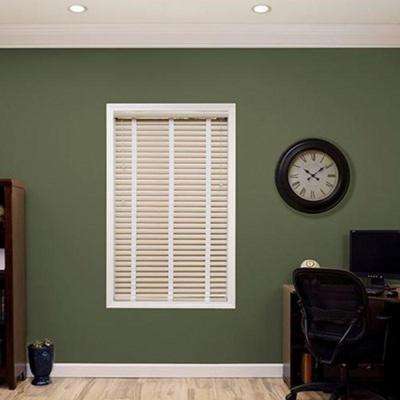 Most Mini blinds are available in several slat widths, 1/2″, 1″, 2″. The slats are manufactured in different gauges (thickness) of aluminum. Some in the Shelf Stock mini blinds use plastic slats to help promote lower their cost. A higher gauge, results into a thicker slat and better quality blind.
Mini blinds became quite popular in homes around the 80's. And they still used extensively in commercial buildings and rental properties.
Color choices for mini blinds are sheer unlimited. Shop for affordable window blinds online!
Solid blinds:
Often called window treatments, these blinds unlike venetian blinds, can't be rotated. But they may be rolled up or folded to allow the lighting to appear in. These blinds include:
Holland Blinds:
Also known as roller shades, are common rolling shutters in Europe.
Window Blinds Woven-wood:

The slats used are crafted from decorative wood or bamboo. The louvers are woven together using colorful yarns or other decorative materials. These blinds might be rolled or folded out. They are energy-efficient, have greater light control, and are economical alternative to shutters.
Pleated shades:
These blinds contain pleated fabric shades which are usually pulled up to the top in the window.
Honeycomb Window Shades:
Also called cellular blinds, and they are often the best selection for all windows since they offer the best features of both shades and blinds. When lowered, they provide privacy without any loss of light. Therefore, you can enjoy day light, and still have your privacy.

If you are looking for a cost effective solution, you should look for theses pleated shades. They are normally found in both opaque and semi-opaque styles. Further they add some texture and interest to your windows. You will notice that they are the most affordable fabric covered shades. And they are available in a variety of colors and textures to fit most of the established home décor.
They are a lot like pleated shades, but here are 2 or more joined together on the pleats forming compartments capture air, this provides you with the room insulation to reduce your energy bills. Cellular shades also come in various styles, for instance double and triple cell styles.
Roman Shades:

These blinds use a cord woven through the information that allows you to raise or lower the color tone in an accordion pattern. They are really easy to operate and have become efficient in insulation.
Window Blinds Faux Wood:
Faux Wood Window Blinds are PVC Blinds that are made from a solid or foamed Poly Vinyl Chloride (PVC) plastic. PVC- blinds have really gained popularity over the past 20 years. They are usually 2″ to 3 Inches wide. And the blind louvers surface is smooth. However, they are also available in a very luxurious and classy looking wood grain imitation.
Common color options are whites and wood colors. Faux Wood Blinds are extremely durable, UV resistant, and waterproof. The biggest drawback to Faux Blinds is their weight. This fairly large blind is much heavier than the Aluminum or PVC mini blind. Therefore, it can become a challenge to raise the blinds on larger windows.
Composite Window Blinds:
Composite blinds are produced from a mix of wood, glues and Plastics. Composite Slats are a newer material being used for window blinds. The widths are between 2″and 3 inches. The louvers are either flat or elliptical in shape. And their surface is either a smooth poly-coating or a compelling wood grain imitation.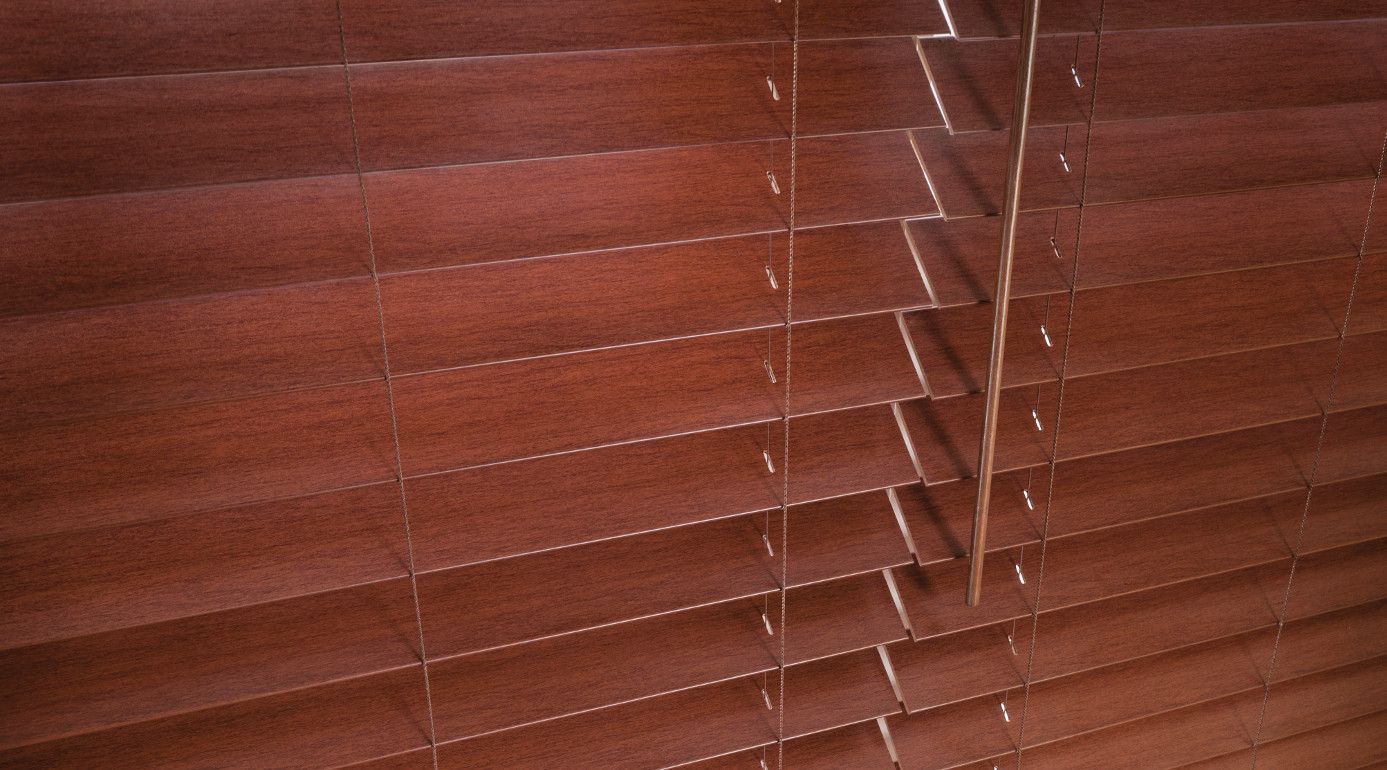 Like with Faux – wood blinds, the color selection is limited to whites and a few wooden colors. Composite blinds are priced within the lower mid range. They have become durable, UV resistant, and water-proof.
They are less likely to warp than wood blinds. Composite blinds are lighter than Faux Wood Blinds (PVC). However, they are heavier than real wood and bamboo blinds. And for that reason maybe not the best selection for very large windows.
Because, it can be rather difficult to rise large blinds from hand.
Window Blinds Wood
Both value & premium wood blinds are made of real woods. The value wood blind louvers are made of assorted Oriental hardwoods. The premium wood blind slats are manufactured from American Basswood. Basswood is a unique cross-grained wood, containing rich detail and is naturally resistant against warping.
Basswood is the wood of choice for many wood carvers. This lightweight wood works very easily with both hand and power tools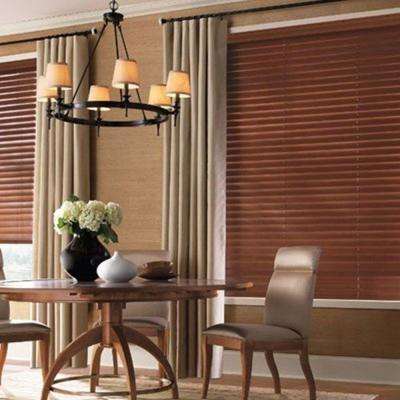 Slat widths range from 1 to 3inches. The blind slat's surface is either painted or stained. There is really a huge color selection. With several whites and the most popular hardwood stain colors. You may also add Cloth tape ladders for any truly custom look. Further it is optional to color match your blinds to a specific cabinet or trim stain color.
Wood blinds are definitely the most expensive choice in this category. Plus they still can warp and color fade over an extended period of time. However, Wood blind are luxurious, classy and the lightest material. What makes it an excellent choice for big windows.
Bamboo Window Blinds
Window blinds manufactured from bamboo were traditionally used for centuries in Japan along with parts of Asia. Now days, these window blinds bamboo have noticed a revival and also have become more popular than ever in rest on the world too.
Bamboo Shutters are quickly becoming a trend because bamboo is environment-safe, grows fast and is particularly ready in order to use in a short use of five to six years. Bamboo shutters come in the number of styles. They are colorful, natural and filled with texture. Raw materials employed in making bamboo window treatments are bamboo, grasses and reeds.
The idea behind these classical bamboo shades is to incorporate a natural look in our homes
Why Use Bamboo Window Blinds?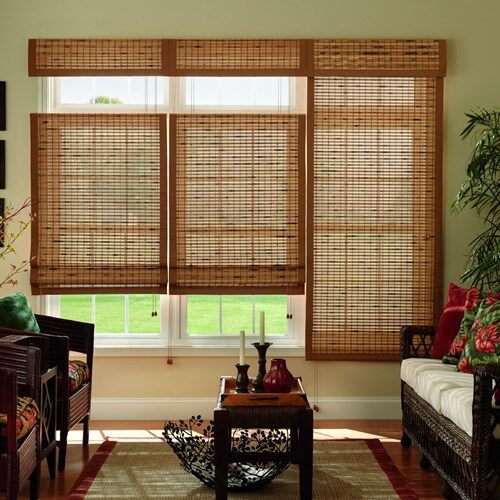 All Bamboo shades are easy to maintain.
Bamboo shades can be adjusted to allow the amount of light that you might want.
Most Bamboo shutters are very efficient at keeping light out.
Bamboo shades are easy to clean up.
Shutters from Bamboo offer good ventilation.
Bamboo window treatments are simple to blend with any decor.
Are comparatively less expensive.
Bamboo window shades are a good insulator.
Versatile, graceful and durable bamboo window treatments
Bamboo shades are simply fun to utilize because of their versatility. They possess a flair and grace that belongs to them and come with assorted lifting abilities.
With proper lighting, bamboo shades have a glow. They are certainly good for exclusive and artistic upholstery decoration. They can be tailor made to suit individual requirements. In fact bamboo shades are the current trend. They are getting used with impunity for decoration in hotels, resorts, offices and homes alike.
Window Blind and Shades Brand Names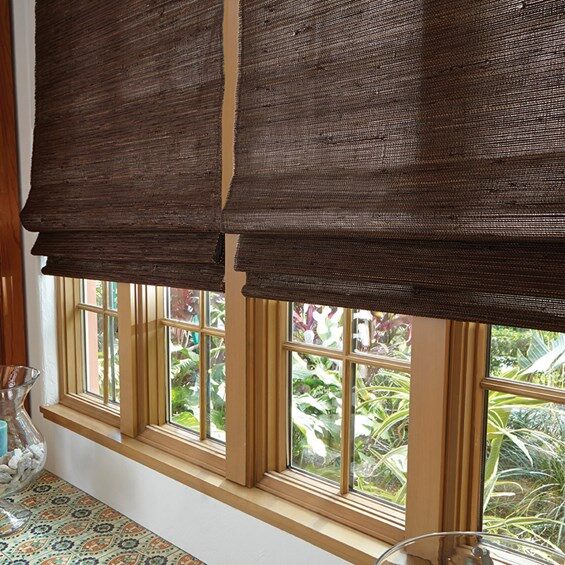 Here is a list of some of the leading supplier of wood blinds that we can recommend:
Timber View Value Wood Blinds,
Timber View Premium Wood Blinds,
Royal Wood,
Royal Budget Wood
PVC Mini Blinds Brand & Retailer
If your budget is that low, you do what you have to do. However, you should ask your supplier for a Foam PVC Product or Faux wood Window Blinds. Even though they are a little more expensive, they would be a much better and durable alternative. You should also always keep an eye on the product warranty.
Here are a few Brand Names that you should consider:
Those are likely your cheapest option. Walmart and Dollar Stores sell a ton of them. The louvers are thin PVC Slats, and they are easily to break.
Woodmates,
Doverwood,
Envirowood,
Wood Like,
the Wood Look,
Wood Plus,
Infusion,
Faux Wood, and there are many more.
Top of the Line Retailer:
Hunter Douglas Window Treatment
Hunter Douglas blinds are one of the most popular brands of window shades on the US market. This is because the Hunter Douglas name is synonymous with a premium quality and standards within the manufacture of blinds and shades for each kind of window.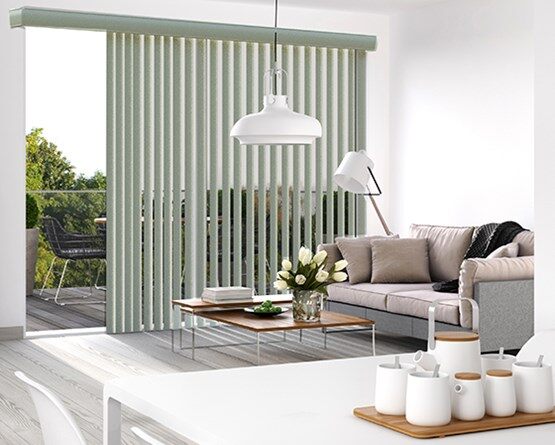 Along which has a wide collection of colors, Hunter Douglas blinds come in an amazing selection of styles and textures that guaranteed to enhance the decor of most any room. Regardless if that room is in your home or office.
Both vertical and horizontal blinds as well as a surprising selection of shutters can be found when you visit the Hunter Douglas blinds website.
Hunter Douglas blinds contain many innovative features that shades by other manufacturers will not. For example, aluminum blinds from Hunter Douglas use a bounce back feature and contoured head rails around the top from the vertical blinds.
Hunter Douglas blinds can be found in wood, faux wood, aluminum and vinyl.
They offer very practical cellular shades with cordless and remote device capabilities
Materials like sheer, mesh and fabric.
Pleated Hunter Douglas shades are another alternative
Some types of shades are cordless, and have safety tassels and loops added to the cords to make them perfectly safe to use in a child's bedroom
Although it is possible to buy shutters for your home almost anyplace, buying Hunter Douglas blinds are the top of the line blinds for every window. Visit Hunter Douglas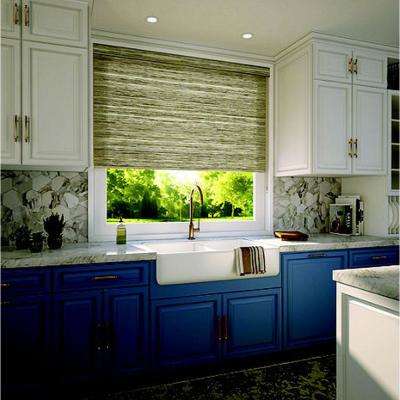 Graber Blinds is another Retailer I like to Mention here
Graber is dedicated to the details. That means we artfully craft every Graber Blind, Shade, Shutter, and Drapery to the highest standards. Our designs are inventive and our options are thoughtful. More than that, we provide a limited lifetime warranty on our window treatments to give you peace of mind, so you can better delight in your home.
Our Graber experts precisely measure your windows—a precision you'll notice when your blackout shades fit perfectly and you're finally able to sleep through the early morning sunrise.
It's this attention to detail that's carried across all our custom treatments at every step of the process.
You may not navigate through all of our solutions, but you can trust that Graber's collections are expertly curated.
That way, you're certain to find the ideal premium treatment to fit your style and needs.
When you purchase Graber custom treatments for each room in your house, you'll feel more at home than ever before.
To learn more visit Graber
However, there are also the bestselling window blinds on Amazon
Exterior Shade:
Coolaroo Solar Outdoor Shades
As you can see these type of shades shield patios and windows from the heat of the sun. Their ability to block UV rays helps protect your furniture and floors, cool off your home and convert outdoor patios into livable spaces—even during the hottest of months.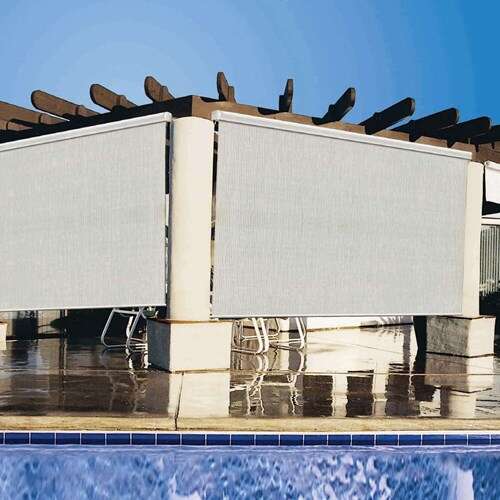 These exterior shades are available in a beautiful array of textured solids and patterns of various scales. A light-filtering knit, or woven fabric construction enables them to significantly reduce glare without darkening a room's interior. They are built to withstand the elements.
They are made from weather-resistant fabric and components, which make them fade, mold and mildew resistant, as well as easy to clean. A smooth-action roller-clutch mechanism gives them a smooth, even roll. Color-matched cords standard.
For more Information Click Here
How to Measure Windows to order Window Blinds & Shades?
Getting the right measurements is very important! Fortunately, it's also very simple.
Inside Mount (in your window casing)
Note:
Measure and write down the window width first, and height second. Because, that's how window sizes are determined and that will be the way you need your measurements for your order.
Make sure your window has enough depth for the product you have chosen (see the "Mounting Requirements" section for your product). If your window does not have sufficient depth, select another
So, … WIDTH X HEIGHT.
Take 3 measures for your width,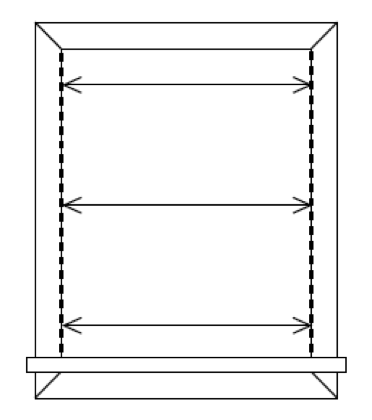 If your measurements are not all the same, you should use the SMALLEST measurement and subtract ¼ inch for some wiggle room. And write the result down, this number is your width for the new window blinds, shades or shutter.
Measure from the top right corner to the top left corner Wall to Wall where the window is installed.
Do the same thing about in the middle of the window
And take the same measurement at the bottom.
Similar take 3 measurements for the height.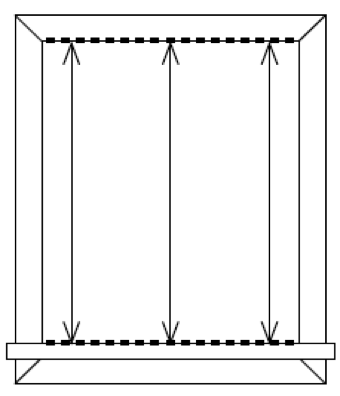 Measure from the top right corner, to the bottom right corner insight your window casing. Do this in the middle and on each side. If you decided to get Window Blinds or Shades there is no need to deduct anything, but if you opted out for Window Shutters you should reduce at least a ¼ Inch for sagging.
Once again, use the smallest measurement and write it down for your order. This is your window height.
The final measurement
The last measurement we need is the depth of the pocket (window casing) where the window blind will be installed (from the front edge to the window).
If you order your window blinds and shades using these dimensions, they should fit easily into place. And leave just enough room to adjust if needed.
Outside Mount (Blinds cover part of the wall edges)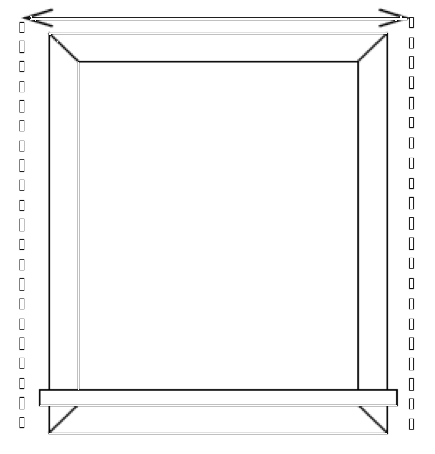 Measure the width and height of the area you want your blinds to cover. Your product will be made to the exact measurements you specify. For roller shades, consider adding more width than with other products.
Include additional height for the mounting brackets, which are up to 2 1/2″ tall.
Take note of obstructions like alarm systems, molding, doorknobs and deadbolts that might get in the way of your window covering. Some products are available with spacer blocks or extension brackets to help clear these obstructions.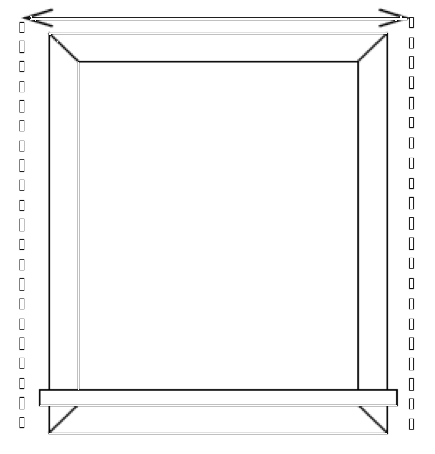 Here is a Pro Tip for your Order:
Make sure you let your supplier know that you already subtracted the ¼ inch width. Also either you order a box of replacements screws to install the Window Blinds Brackets (usually you need 4 per Blind).
Or you wait for the blinds to arrive. Get a count and a sample screw for sizing. Go to your closest hardware store or building supplier like Lowe's and buy your own screws. Because, the Screws that are supplied with the kit most times don't do nothing but give you a headache.
In general 1-1/4 Inch long #6 Wood Screws will work. The Screw-Head must be flat, so the heads are out of the way when you insert the blind into the bracket. I personal prefer a Philips or Star Drive.
How to Install Your Window Blinds?
When your blinds arrive open each box and check that all the parts are there.
Place the right size Blinds at their window.
Get your Window Blinds Brackets and place one on each side of the window where you will install your Blinds.
Open the bracket and install it with the opening facing you. Use two Screws for each bracket.
Slide the top frame of your Window Blinds into the brackets and secure them by closing each of the bracket till it locks into place
Install the Rod to turn the Blind Lovers and untangle the knot of the Cords
Test all functions by lowering the blinds and adjust your louvers as needed.
If all works as it should move on to the next window.
How to install standard pre-cut size Blinds on center ?
Make sure they are either the same or smaller size width then your original window measurements.
Next you need to measure how much empty space will be left on each side from the window casing to your blind to determine the bracket location.
Measure the top channel length of your blind and add ¼ Inch make a note of it.
Measure the window top width like earlier explained and write it down.
Next subtract (reduce) the Channel Length from your window width.
Finally divide the difference in two. That result is the minimum setback of each bracket from the window casing side.
For easier install we have the extra ¼ Inch from step 3
Conclusion:
You probably already knew that Window Blinds and Shades come in a great variety. However, now you also know how to choose between the different materials. You know also have a list of Brand Name Supplier that can satisfy your desired quality or budget.
Even though the Style is still depending on your personal taste, you should now be able to make some informed window blind choices. Or at least be able to choose what matters to you most.
Hope this Guide is from help. And good luck with your project. Further you can post any questions or comments below. Thanks for Reading and Sharing JK 🙂
Images Sources:
www.homedepot.com
www.graberblinds.com/
www.hunterdouglas.com/
www.americanblinds.com/