Here is my take & tips on a new renovation trend for home styles of the 1940's, 50's and 60's. Homeowners are going retro & restore lost architectural charm.
This new renovation trend is paying visit to those homes and we  rediscover styles of this era.
Instead of eradicating existing structures and styles there's a growing population interested in going retro and rebuild to the faded glories.
So they do their best to resurrect the post-modern flair inherent in these homes.
In America 20 million new homes were built during the baby boom
This equals the years of 1945-1960. Also you should note that most of the homes during that time where built in the suburbs. The predominant home styles built during this period were, the Ranch, Colonial and Cape Styles.
Further this trend continued when split level homes came into vogue.
These homes had typically a footprint of 1,100-1,700 sq feet. Even though these may be on the smaller side by today's standards. They are still eco-spirited with their compact footprint. What in turn takes fewer fuels to heat, fewer chemicals to clean and less material to renovate.
Going Retro – now is the best time for these homes.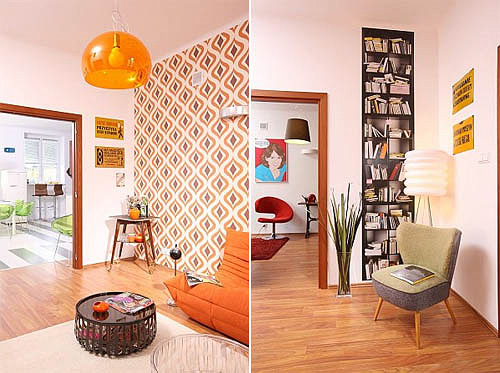 They've become the more affordable houses on the market.
And are often filled with hidden treasures and architectural elements that can easily be highlighted.
Often original wood flooring that can be re-surfaced
Original appliances that can be refurbished and set as the centerpieces in those going retro renovations.
So if you're racking your brain, wondering where to source out your going retro reno materials, check out some of the following suggestions:
One great resource that has sprung up is a new weblog retro-renovation.com. Here you'll find daily updates. And it is a great source on retro styling tips for your kitchens and bathrooms.
Google for room images like : "1945 Living Room Images " Clearly Google is still the largest resource.
Further your parents or grand parents Photo album is a great source as well. Here you can explorer retro-inspired wallpaper, countertop materials, flooring, lighting, and furniture.
Thrift Stores and flee markets can be a great source for cultural inspiration from books, exhibits, and advertising.
If you're a property buyer
When scouting out the perfect mid-century home for retro reno, you'll ideally want to find a place that has good indoor-outdoor flow. Preferably you'll want flexible living spaces.
Because they will give you the option of opening them up into larger spaces. Or closing them down into smaller spaces.
Try to find a place that has consistent interior detailing including doors, skirting boards, architraves, moldings, and ceilings. Because these are all gems that will resurect the retro character of your home to life.
Based on my understanding of the research
I suggest , that you approach your goal the following way:
Your goal is to keep cost low in order to building your personal savings and net worth… Kitchen and Bathrooms are the most expensive projects . Therefor you should prefer properties with a kitchen and / or bath that are already updated. 
The game plan should be to spend as little as possible on changes. Force this venue even more if you are planning on  reselling the property for profit soon.
Yes: Keep the serviceable granite countertops, wood cabinets, appliances, and floor — and decorate around them.
Here Are a few quick tips to going retro – pep things up:
 Add vintage or retro-style wallpaper 
window treatments,
color-cued accessories that you love and can take to your next project if needed.
When you prepare to sell your home, either leave the wallpaper up if you think buyers might like the retro look
Or, because wallpaper is such a personal choice, take it down and repaint in a neutral palette that will enable prospective buyers to imagine themselves in your space.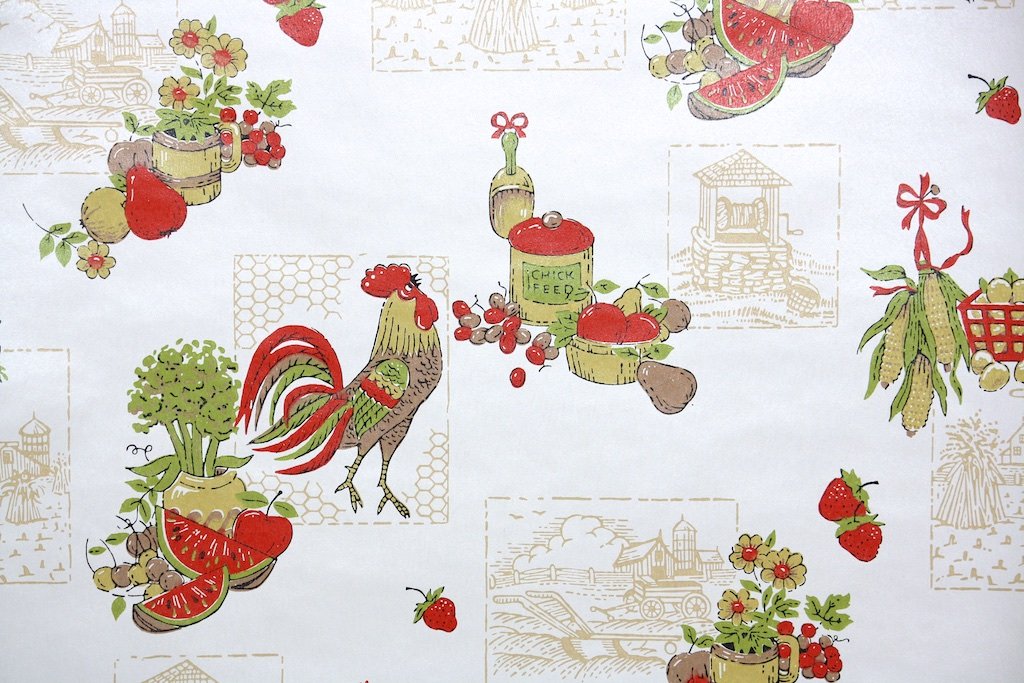 Above: The kitchen is shown with 1970s wallpaper from Hannah's Treasures.
This wallpaper is my favorite in the orange family (so far) for your kitchen — although I would surely get lots of samples and torture over the decision. It has the brown and gray bases in tones that you need, PLUS and accents of dark coral and light minty-blue that you can play with. It also appears to be a nice scale for a soffit.
Are you planning on doing it yourself ? Here are some good guides.
Pull the clashing cabinet and countertop colors together with wallpaper:
My going retro approach also means: Love the Colors You're In. In this case, you've been dealt orange-blonde wood tones and gray. I am not 100% sure, but I think your wood is "warm" while your grays are "cool" — causing a visual clash in this kitchen.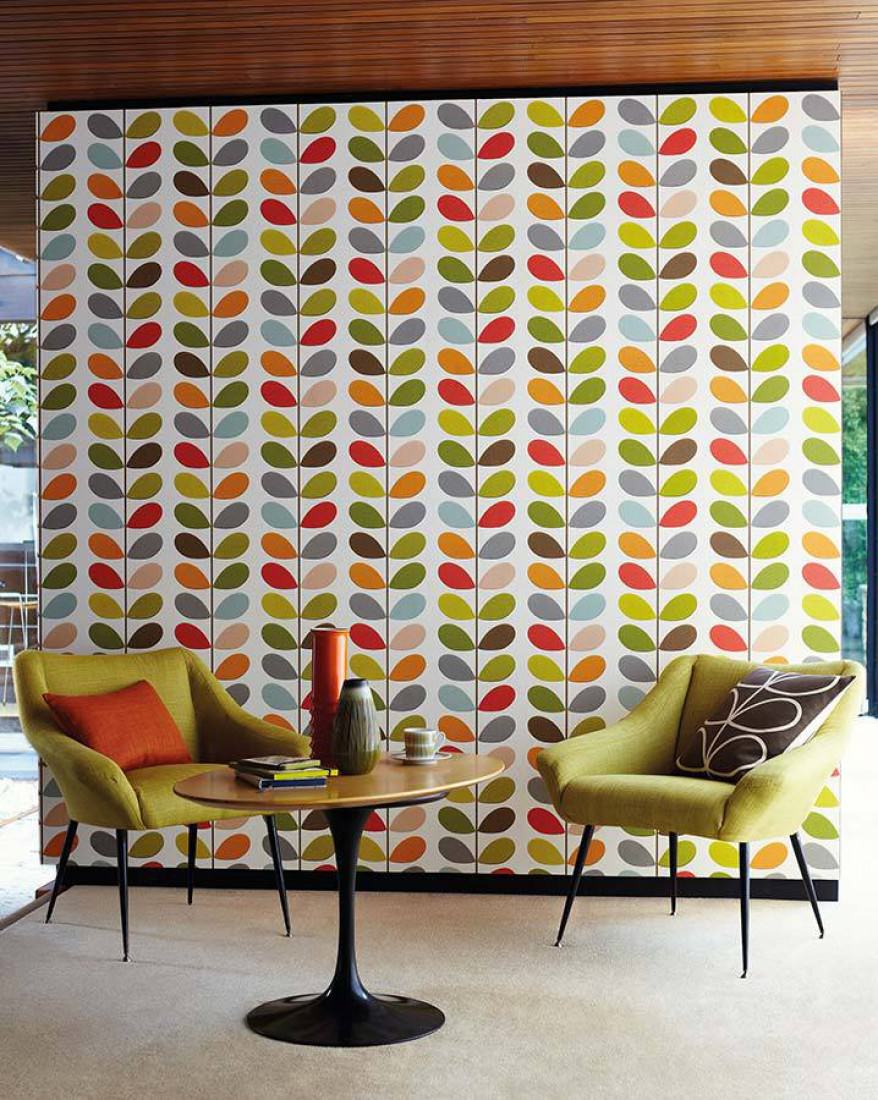 Above: 1960s-70s muted wallpaperfromthe70s that sells for approximate $100 / roll (20SF). On eBay — you can find offers of five rolls for under $100!
https://www.wallpaperfromthe70s.com/wallpaper-patterns/i-love-the-70s-/
You like the aqua color on your soffit, but I really think that to pull the kitchen's dominant colors together, you need to swap it out for a hearty dose of pattern based on the same colors as your cabinetry and countertop.
And this is where wallpaper, in particular, can save the day, because it can cover lots of surface with happy, eye-catching colorful pattern:
Find a wallpaper that includes the wood color, the gray, and a third and/fourth accent color that you can play up elsewhere in the room.
The scale of the wallpaper designed for your narrow soffit space should be not too big, not too small, just right.
You should keep from wallpaper the soffit. Or keep it at least at a minimum.
Going Retro Kitchen Tips:
In kitchens for example you can also wallpapered an adjacent wall. Because a lot of wall surface is covered my Cabinetry and appliances.
You should paint the backslash a gray color (cheaper then tiling it) Pick a shade that is harmonious and a bit lighter than the countertops. The goal is to  "neutralize" it. Because the gray paint will make the backsplash recede.
Even though it sounds counter-intuitive, a gray-painted backsplash can even play down the gray granite countertops. Because you will see less contrast (compared to gray countertop in combo with white backsplash contrast).
You also need to like the look of these colors in your kitchen. The red is opposite green on the color wheel, so that works and the white makes it feel light and airy.
Further consider the scale of the print. Smaller rooms need smaller pattern since large ones won't work.
And lastly the visual. Ask yourself it might be too faint? You need the right measure of visual strength in the pattern to balance the strong solids of the cabinets and Countertop.
Wallpaper & BackSplash
Or use coordinating wallpaper on the backsplash. However, because it is harder to keep clean, I do not recommend this.
Just look at Ben Sander's kitchen transformation; he coordinated the wallpaper with the backsplash using tile, but you get the drift —You can do this look with wallpaper on the backsplash too.
Going Retro Decor
You should buy curtains and towels in your accent colors. Further you could put in a rug to add color as well.
However, I am not sure if you should do so for rentals. I suggest you do your own research on this issue.
Start collecting accessories in your accent colors.
For example, I see that minty green. If your wallpaper has that color in it, you are on your way!
Conclusion
Now I want turn it to you… What do you think about going retro? Is this a style you like to reproduce for your own home? If you like to find out more about home improvements for investments read our ROI – Article
Feel free to ask or comment below… I love to get back to you
Good luck with your project;