The Sold-Out 5 function handheld shower head by CRW is Out of Stock. And we doubt that we will fill this out of stock item again. However, because of the requests we found following alternative product. Also from CRW the G10CU1 – Thermostatic Rain Shower System.
But no worry, we link to a similar products in this Ad Package.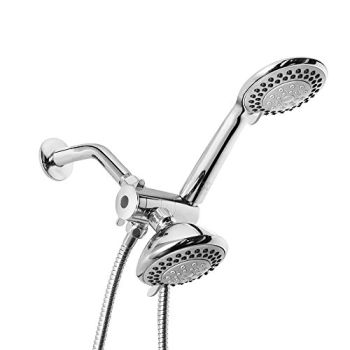 Currently unavailable & sold-out.
And we don't know when or if this item will be back in stock
Features:
1. 5 function handheld shower head.

with power rain, massage, aeration.

water-saving rain and rain/massage.

Use each shower separately or both together.

Wall mount type with chrome polished finish.

High-quality ABS with copper shower arm.

1.5m shower hose.

The shower head is backed by limited lifetime warranty.
=========================================================
A Better Product Alternative:
The CRW G10CU1 – Thermostatic Rain Shower System
What comes with it:
Exposed pipe shower systems

20cm/8″ luxury adjustable overhead rain shower,

handheld shower head,

tub faucet set,

stainless steel shower hose

 sliding bar

use as indoor or outdoor shower
Price: $ 174.99 & FREE Shipping
(as of Feb. 2019 )
Product Features:
THERMOSTATIC SHOWER CONTROL
With default water temperature at 100 degree F / 38 degree so as to enjoy rainfall shower without worrying about water temperature getting too cold or too hot.
The shower plumbing fixtures in chrome plated finish with diverter valve to control tub spout, hand shower head and overhead showerhead
PIPE THREAD ADAPTER 3/4″ MALE NPT to 1/2 NPT MALE NEEDED ( Package not included )
Two holes installation, one for cold water line, another for hot water line; the hole center distance is 150 mm and male 1/2-inch pipe reducer needed ( pipe fitting for connecting two threaded pipes with different diameters)
The Product comes with full shower faucets sets. And template for easy installation. Further you can get access to an install instruction video if needed. Please contact us
Other Product Alternatives:
You can follow this link to find alternative Products that are Available 
Further you may also want to check out the following ideas and products here!